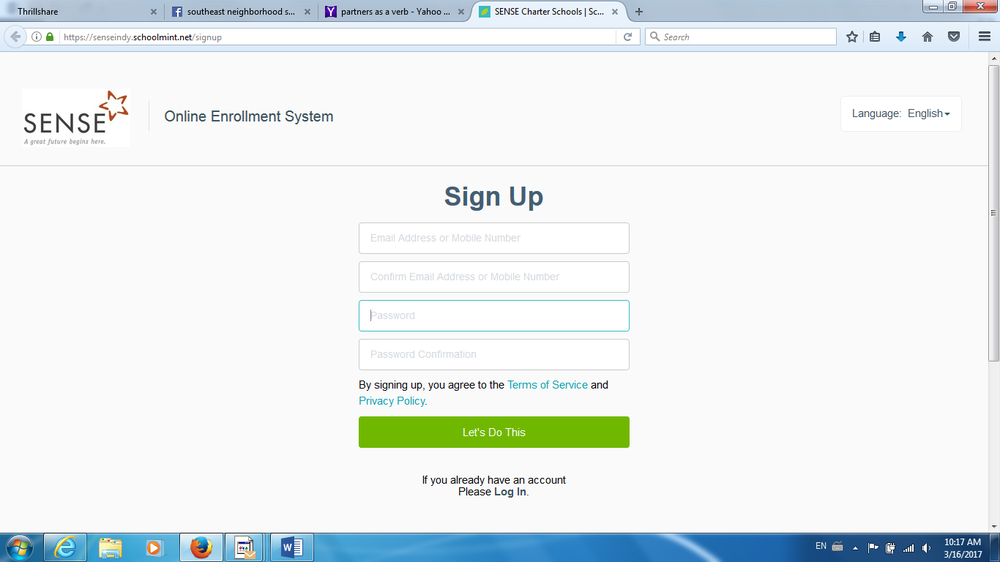 SENSE Partners with SchoolMint for 2017-2018 Online Application and Enrollment!
CJ Fox
Thursday, March 16, 2017
Southeast Neighborhood School of Excellence

SENSE CHARTER SCHOOL

2017-2018 Application and Enrollment Process
We've partnered with SchoolMint for our application and enrollment process.NEW Students may now apply and enroll online* using SchoolMint.There is also an app for your phone if you'd prefer to use it.
The process will require that you have either a valid email address or a cellphone that receives texts.
To set up your account and apply go to:
https://senseindy.schoolmint.net/signup
Once your account is set up, you can update, make changes, or check the status of your application at:
https://senseindy.schoolmint.net/signin
You can also download the "app" for your IPhone or Android and complete the entire process on your smartphone.Just select SchoolMint and download. (Not SchoolMint Search)
Instructions for either online or via smartphone:
1.Set up your account
2.Complete the application for your student or students. If you have multiple students, you will need to submit an application for each student separately.
3.When your application is accepted or wait-listed, you will be notified via text, email or both.
4.Once you receive an offer notification, you will be able to sign in to accept the offer and complete the enrollment forms.
a.There is even the ability for you to take a snapshot/photo with your phone and upload birth certificates, parent driver's license, shot records, etc.
5.Once you complete your enrollment forms and submit, you will get notified via text or email.Then, the SENSE Support team will verify that the information is complete and notify you via text or email that the process is verified.
6.Since this is a new process, there will still be the need for at least 1 or 2 forms (including one state required form and transportation arrangements, i.e., car, bus, walker etc.)to be completed in person prior to your Student starting at SENSE.The good news though is that your student will have a guaranteed seat at that point and it should only take a couple minutes of your time.
*If needed, we do have computers in our lobby that parents/guardians are welcome to use for the application and enrollment process!