We were informed that the Pink/Green Bus will have a substitute driver today and will be bus 2046. We were not made aware of any delays.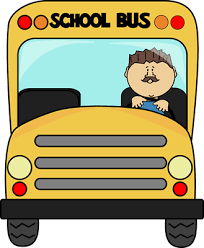 SENSE Charter School will have an E- Learning Day tomorrow, January 25th due to inclement weather. This is a precautionary measure to ensure everyone's safety. Please follow your child's e-learning schedule that will be posted on Parent Square. Ms. Sweeney

Tomorrow, Thursday January 12th, will be an E-LEARNING DAY. Student will be sent home with technology and teachers will post class schedules on ParentSquare.

We will be kicking off Winter Break with a 1pm dismissal today. We look forward to seeing everyone when classes resume on Wednesday, January 4th. Have a safe and enjoyable holiday!



Spirit Week May 23- 27 Let's end the year with some fun! Monday, May 23- Western Day- wear cowboy boots, flannels, jeans, cowboy hats Tuesday, May 24- Jersey Day- wear a jersey to support your favorite team Wednesday, May 25- USA Day- wear red, white, and blue Thursday, May 26- Fancy Day- dress nicely, dresses, dress pants, button down shirts Friday, May 27- Disney Day- dress like your favorite character, wear anything Disney.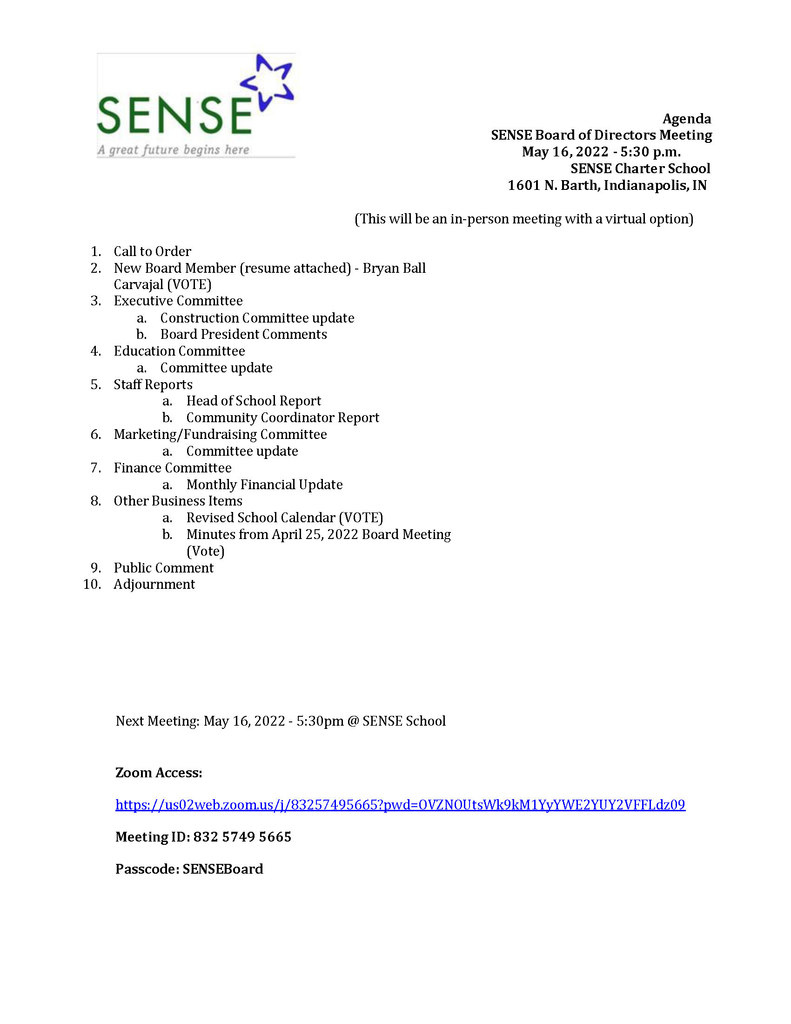 There will be an emergency board meeting on Thursday, February 17, 2022 at 5pm. Agenda SENSE Board of Directors Emergency Meeting Thursday, February 17, 2022, at 5:00 p.m. 1601 South Barth Ave., Indianapolis, Indiana 46203 Zoom Access:
https://us02web.zoom.us/j/83257495665?pwd=OVZNOUtsWk9kM1YyYWE2YUY2VFFLdz09
Meeting ID: 832 5749 5665 Passcode: SENSEBoard **This is an in-person meeting with Zoom access available** 1. Call to Order 2. Discussion of Proposed Resolution in Opposition of HB 1134 3. Public Comment 4. Vote on Adoption of Proposed Resolution in Opposition of HB 1134 5. Adjournment
SENSE Cross Country Schedule: Wednesday, August 25th Wednesday, September 1st Wednesday, September 8th Wednesday, September 15th Wednesday, September 22nd Wednesday, September 29th Wednesday, October 8th- Championship Please know that transportation is not available and that the meets will start at 5:30. Please reach out with any questions you may have! All meets will be met at: Riverside Park- 2420 East Riverside Drive, Indianapolis, IN 46208
Child Tax Credit Program - Starts July 15, 2021 The Child Tax Credit, part of the American Rescue Plan, is coming, and it will help families raising children make ends meet. This credit will give working families $300 a month for each child under the age of 6 and $250 a month for each child from age 6-17. Monthly payments begin on Thursday, July 15, 2021! If you have already filed your 2019 or 2020 taxes, payments will begin automatically. If you have not filed taxes in the past two years but qualify for the payments, just fill out a simple form for non-filers by clicking here. Families can check their eligibility through this IRS website. The expanded credit, however, is only in place for 2021. Please note that the schools are not managing this program. Use these links for more information. Here are things you need to know about the expanded child tax credit - Who qualifies? The full enhanced credit will be available for heads of households earning $112,500 and joint filers making up to $150,000 a year, after which it begins to phase out. For many families, the credit then plateaus at $2,000 per child and starts to phase out for single parents earning more than $200,000 or for married couples with incomes above $400,000. Parents who aren't citizens can receive the payments for their citizen children as long as they have individual taxpayer identification numbers (ITIN) and their children have Social Security numbers. Families can check their eligibility through this IRS website. The expanded credit, however, is only in place for 2021. How much will I get? That depends on your household income and family size. Eligible families can receive a total of up to $3,600 for each child under 6 and up to $3,000 for each one age 6 to 17 for 2021. That's an increase from the regular child tax credit of up to $2,000 for each child up to age 17. When will I see the money? Parents will receive half their credit -- up to $300 a month for each child under age 6 and up to $250 for each one ages 6 to 17 -- on a monthly basis from now through the rest of the year. The payments will be made on the 15th of each month, unless it falls on a weekend or holiday. They can claim the other half when they file their 2021 taxes next year. Parents can check if they are enrolled to receive the advance payments at an IRS portal. They can also use it to provide or update their bank account information, which will take effect starting with the August payment. In early August, the IRS is scheduled to allow parents to update their mailing address, and later in the summer, the agency will let families update their income and marital status, as well as the number of dependents, which is important for anyone with babies born in 2021. If you are in need of help with budgeting, make an appointment by calling Southeast Community Services at 317-236-7400
www.southeastindy.org
or the Fountain Square Salvation Army at 317-632-0156 x 103
www.safountainsquare.org
Summer Meals to GO Pick up -TODAY From 11:30-12:30 Hello! Happy FRIDAY! If you signed your family up for Summer meal pick up, do not forget to Stop by today from 11:30-12:30 to pick up Summer meal bags! These bags will include 5 breakfasts, 5 lunches, fruit, veggies and milk! It will be the last pick up for Summer meals! Pick up will at the corner of the parking lot due to construction. Hope to see you soon!

We are excited to begin Second Semester tomorrow, January 4th. All students K-8 will be on a virtual platform through January 18th. There will be NO in-person learning until January 19th. Students should follow the same schedule used prior to winter break. The school board and I are assessing the daily COVID numbers and working with the Marion County and State Health Department to insure a safe return. Our plan is to announce our re-entry plan on Thursday, January 14th. SENSE will continue to offer an on-line platform for those families who do not fill comfortable sending their children to school due to COVID-19. Should you have any questions regarding re-entry- please feel free to reach out to me directly. Should you have questions regarding technology and computers- please reach out to Mr. Bean at
rbean@senseindy.org
Should you have questions regarding meals or attendance- please reach out to Tiffany Johnson at
tjohnson@senseindy.org
Best Wishes for a Happy New Year- Ms. Sweeney Head of School
We had a wonderful donation to our Food Pantry today from the Columbia Club in Downtown Indy! Lots of fresh produce and fruit! @columbiaclub_in @columbiaclub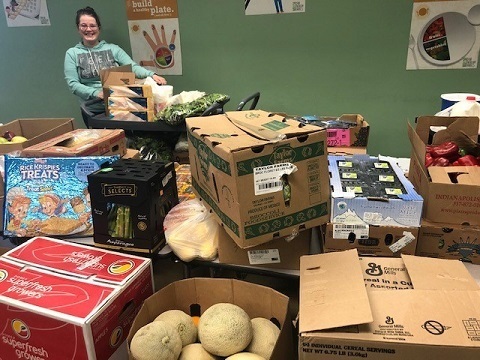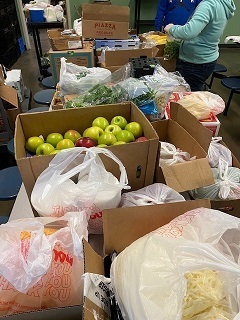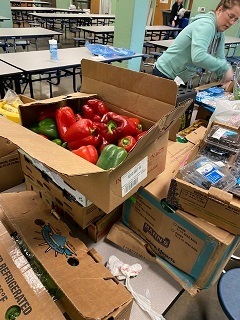 In response to direction from Governor Holcomb and Mayor Hogsett, EFFECTIVELY IMMEDIATELY, SENSE CHARTER SCHOOL IS CLOSED UNTIL MONDAY, APRIL 6, 2020, to ensure the safety of the staff and students of SENSE Charter School. As indicated by Dr. Sweeney in her message last night, we will be activating the SENSE Charter School Emergency Operations Plan. This weekend, Dr. Sweeney or I will provide information regarding pick up of materials for off-site instruction and meal service. Please continue prevention techniques such as hand washing and home sanitation. Thank you for your patience and support during this time of uncertainty. Please feel free to contact me with any questions at
senseboard@senseindy.org
, by replying to this message, or by sending a message to SENSE Board via Parent Square. Jessica Ballard-Barnett President, Board of Directors SENSE Charter School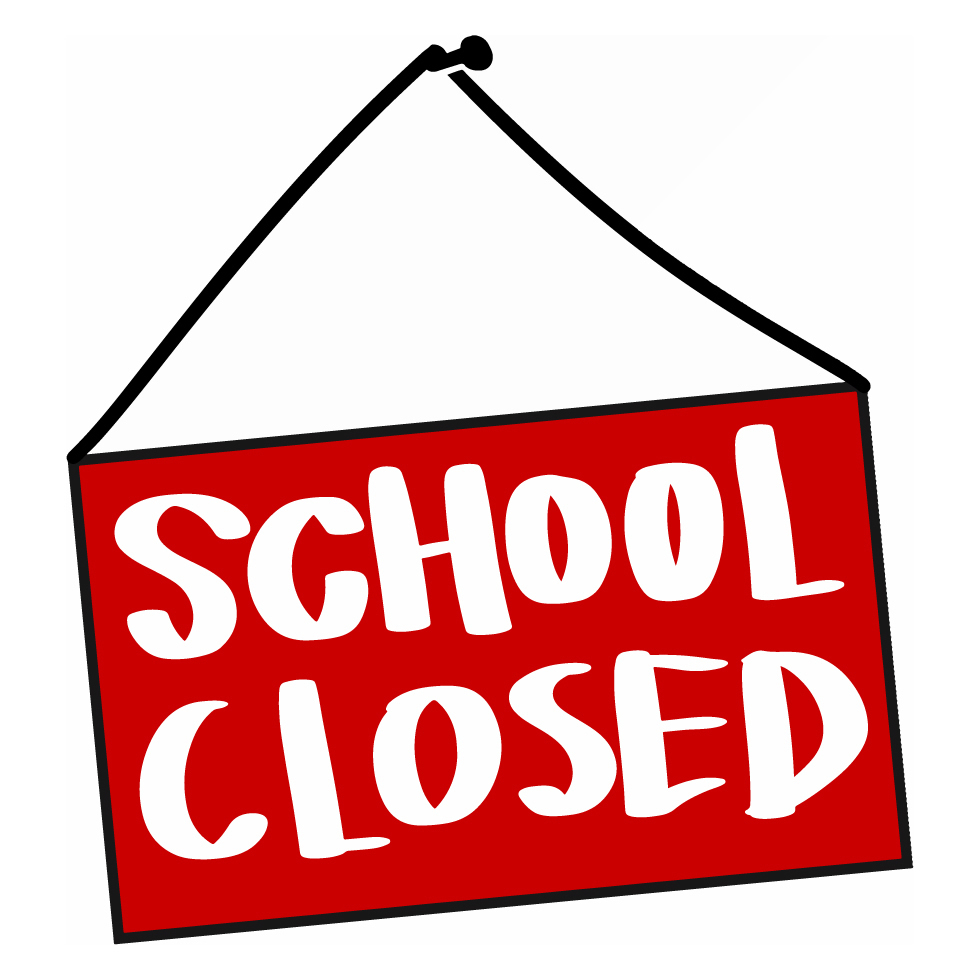 If you have a new student that you'd like to enroll for the 2020-2021 school year you can do so at:
http://bit.ly/2SE2PrV
If you have questions or concerns, please give us a call at 317-423-0204, or you can come into the office for assistance.

As a show of support for SENSE teachers and staff, SENSE Charter School will be CLOSED on Tuesday, November 19, 2019, so our teachers, staff, and students can attend the Red for Ed action day at the Indiana Statehouse.This day off will not affect the school calendar, and will be treated as if it were a "Snow Day." Please feel free to contact the SENSE Board of Directors at
senseboard@senseindy.org
with any questions or concerns. RED FOR ED!

7th and 8th grade families: High School Night will be THURSDAY NOVEMBER 14th from 4:00-5:00pm at SENSE. Students and families will learn more about their student's high school options and scholarship information! Please contact Mrs. Good with any questions!
Don't forget our Food Pantry is open to the Families of SENSE students this afternoon. The doors will be open from 3:30 to 4:30!